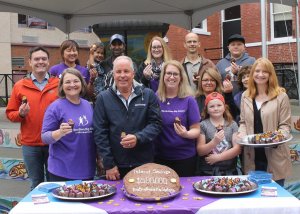 FOR IMMEDIATE RELEASE
September 17, 2018
Big Brothers Big Sisters and Island Savings reflect on eight years of partnership resulting in over 1,800 mentorship matches
DUNCAN, B.C. – Island Savings, a division of First West Credit Union and all three Big Brothers Big Sisters' (BBBS) agencies on Vancouver Island gathered together to celebrate eight valuable years of partnership and to announce a significant financial milestone- $500,000 in cumulative financial support provided by Island Savings to the organizations.
Although the financial figure is significant, it is more important to consider what that support has enabled the BBBS agencies to do. Since the partnership began in 2010, the agencies have been able to match over 1,800 children to a positive caring mentor through their in-school mentoring program. The program provides youth with a role model and a friend to talk to and share the experiences of growing up within school grounds. For one hour a week, mentors meet with their mentee and engage in activities such as board games, crafts or simply hanging out on school grounds.
"The children we serve through In School Mentoring  have experienced stressful early life experiences, they struggle with multiple adversities and feel the impacts of poverty, exclusion, isolation, family based physical or mental illness, family breakdown and/or a family alcohol or drug dependency," says Rhonda Brown, Executive Director at BBBS Victoria and Area. "Children who are mentored have the support they need to thrive, not just survive; and when these children are given the opportunity to do well, the community as-a-whole also benefits."
In addition to financial support, Island Savings staff have been passionate about supporting BBBS agencies in their communities by serving as in-school mentors, board members and volunteers at BBBS events.
"We can all relate to the power of mentorship and have seen time and time again the positive role that mentors play in the lives of children," says Randy Bertsch, President of Island Savings. "We are extremely grateful for this partnership which supports the hard-working employees and volunteers at our local BBBS agencies and the important work that they do."
This special announcement comes during National Big Brothers Big Sisters month which serves as an opportunity to demonstrate the need for positive role models in the lives of children-at-risk through community programming. To learn more about volunteering with your local BBBS agency visit: https://victoria.bigbrothersbigsisters.ca/
About Island Savings
Island Savings is a member-owned financial co-operative, providing banking, investment and insurance services for residents and businesses throughout Vancouver Island and the Southern Gulf Islands. As a division of First West Credit Union, B.C.'s third-largest credit union with $10 billion in assets, 250,000 members, 53 branches and 38 insurance offices throughout the province, Island Savings brings innovative products, an extensive branch network and local decision making to the banking experience. Island Savings has a strong commitment to seeing local economies grow and thrive and in 2017, they invested $250,000 and 4,000 volunteer hours into more than 250 organizations. For more information, visit www.islandsavings.ca.
-30-
Media Contact
Josh Juhlke
Communications Manager
First West Credit Union
t: 604-539-7360