B You: Healthy Bodies, Healthy Minds
B YOU PROGRAM
B You: Healthy Bodies, Healthy Minds is an inclusive group mentoring program for female-identifying and gender-diverse youth, ages 10 to 15.
Our school-based program is available on a referral-only basis in select schools in the Greater Victoria Area. Our program is also available online to eligible youth who do not attend one of our partner schools.
B You participants connect with our trained mentors and their peers to learn about supporting their physical and mental wellbeing, practicing self-compassion and building healthy relationships.
MENTORING MATTERS
Research shows that having a caring relationship with a trusted adult can have a big impact on a child's emotional wellbeing, self-worth and resiliency.
Young people in our B You program have the support and confidence for long-term stability and success. According to our 2020-21 program report: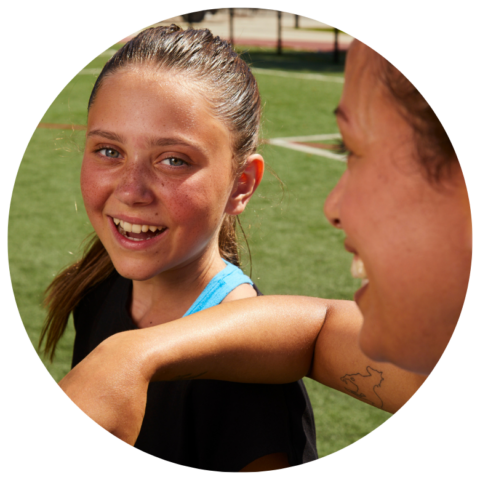 MENTOR SCREENING & TRAINING
Our volunteer mentors are adults who want to make a difference for young people in our community. Mentors complete thorough screening and undergo training focused on building supportive developmental relationships with children and youth.
B You mentors complete additional facilitator training where they learn how to support mentees in physical and mental self-care, healthy living and developing self-esteem.
ENROLL A YOUNG PERSON IN B YOU
Education professionals can refer a child to the school-based program by completing the School Referral Form.
Parents/guardians can consent to their child's participation in the school-based program by completing the Parent/Guardian Consent Form.
If parents/guardians wish to have their child participate in the B You program, but have not been referred by the school, do not attend a partner school, or are located outside of our service area, youth can be enrolled in the online program by completing the Online Program Registration Form.
VOLUNTEER AS A MENTOR
When we connect young people with their peers and volunteer mentors, we start something incredible – a life-changing space where mentors support, challenge and empower our youth to reach their full potential.
Contact our Volunteer Intake Coordinator or visit our Volunteer Page to learn more about making a BIG difference as a B You: Healthy Bodies, Healthy Minds group facilitator with less than two hours per week.

BIG THANK YOU TO OUR PROGRAM PARTNERS & FUNDERS
We gratefully acknowledge the financial support of the Province of British Columbia for B You: Healthy Bodies, Healthy Minds.