Meet Darryl, Volunteer Community Mentor
One of our newest volunteer mentors, Darryl, has just been matched with his mentee and is looking forward to beginning his mentoring journey.
Originally from Surrey, Darryl spent time working in Ontario and recently moved to Victoria to be closer to family. He applied to become a volunteer mentor to get involved and make a difference in the local community. Darryl lives in the Gorge area with his husband, dog and cat.
Darryl chatted with us to share his story and inspire others in the community to think about what they could give as a volunteer mentor.
Apply to Volunteer as a Mentor
Why did you decide to become a mentor?
When you arrive in a new place, you're looking to make connections and get involved in the community. That was the case for me being new to Victoria, and really wanting to get involved and meet different people.
There are many different organizations that you can choose to be part of. I had always heard about Big Brothers Big Sisters, and I think maybe I had been a little bit nervous. It's a big commitment to sign up. You don't really know necessarily who you're going to be paired with. There's quite a few unknowns, but I think in the back of my mind, I'd always been curious about being involved in Big Brothers Big Sisters.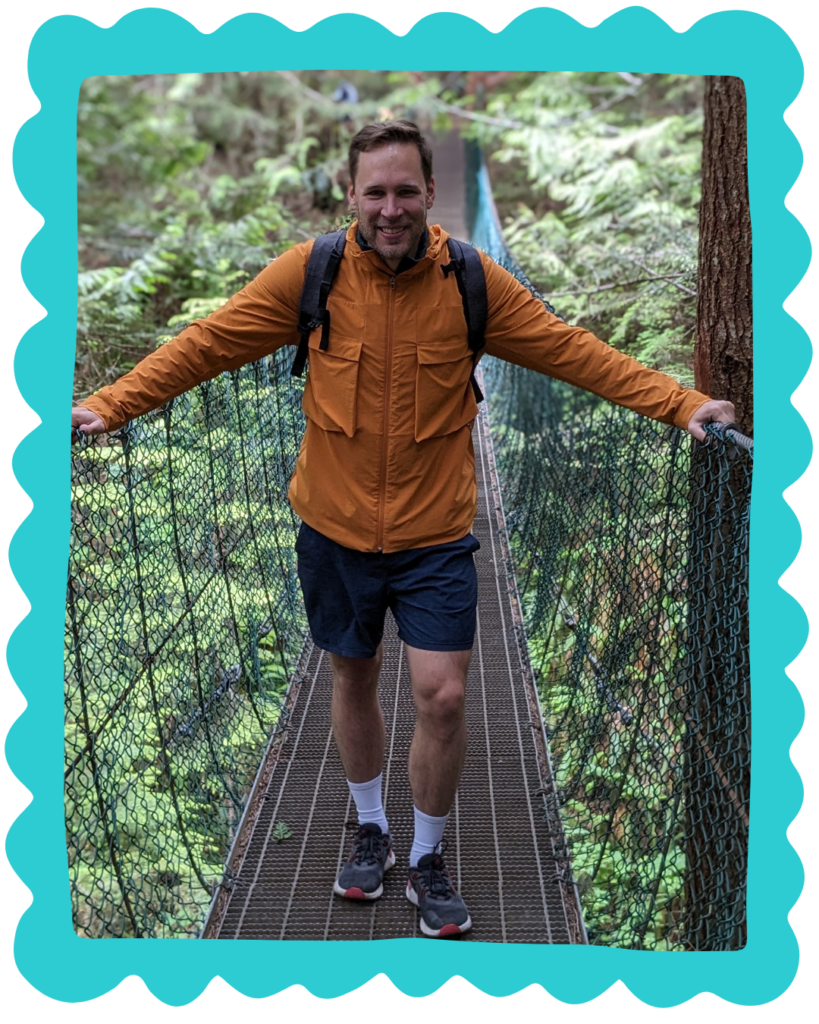 What made you choose Big Brothers Big Sisters to volunteer?
I really like hanging out with young people – I think that they have a different way of looking at the world. They're plugged into different things. Especially as I get older, there's more of a distance between me and young people, I must admit! I think they help to keep you in touch with the things that young people are into, as well as some of the anxieties and fears that young people today face.
I'd also heard that there was a need for mentors, and especially mentors for queer youth in particular. When I heard that, I felt like I could potentially be a good fit. I think that there's just a real need for young people to have strong role models when they're growing up. Especially in their formative years, it can set the course for a person's life. Just being able to be a positive influence and provide that mentorship seems like a really valuable contribution to a person's life, but also to broader society.
What are you most excited about with your mentoring journey?
I'm excited about lots! As daunting as it seems to come up with an activity every week, I'm really looking forward to that. It's something totally different than I would normally do in my week. My mentee is interested in going to the Bug Zoo – that's something that I would never do on my own!
Being pushed to try new experiences that my mentee is particularly interested in – what a great way to learn more about Victoria and get to explore different parts of the city. I know Big Brothers Big Sisters does a really good job of preparing and developing all of these different opportunities for activities to do with your mentee.
(I'm looking forward to) just building that relationship with this kid – getting to know them and learn from them. I think with an opportunity like this, as much as it's the mentor giving their time, I just know that I will get so much learning and personal growth in return from it as well.
What do you feel you can share with a young person?
I'm hoping a big part of it is self esteem. I think just being relentlessly supportive and encouraging of them is really important.
I also think (I can share) a listening ear. I think it's just being being a non-judgmental sounding board for them – about their experiences, about their day and some of the challenges that they're navigating. Hopefully over time, (we will) develop a level of comfort where they feel comfortable sharing things with me that they might not feel comfortable sharing with other people in their life.
(I can also share) my stories about my own experience growing up as a queer person and hopefully being somewhat of a role model. Someone that they can look to and show that life can be really great. There are so many opportunities and so much to look forward to.
What impact do you hope to have on your mentee?
I think it's being a role model and helping to build self esteem. Raising a child, especially as a single parent, is a really challenging thing to do. There are a lot of pressures on parents' time. Having different people that care about a young person is kind of like building that village.
Just having different people that are in a child's life, that they can turn to for different things or look to for different experiences, is really helpful. I think being able to help out a caregiver by thinking of and providing fun activities once a week for a couple of hours, hopefully is something that's really helpful and adds to the child's experience, but also helps the parent or caregiver out too.
You might feel like you're just helping one person or one family, but obviously, society is made up of a collective of individuals. Helping vulnerable individuals and families to succeed and grow into really vibrant lives can only help the broader society as well.
What kinds of activities are you looking forward to doing together?
We're definitely excited to go see the Harbor Cats and maybe some of the other local sports teams play. (My mentee is) very interested in some of the active things like rock climbing, laser tag, and the Wildplay zipline and adventure course. Some of those things sound really fun!
I think more simply, going for a kayak together down the gorge. I have a dog and they really like dogs, so going to the dog park together and throwing the ball for the dog. Even just taking a walk downtown or going to a beach – they don't all have to be those big things, though we'll do a few of the big things during the match, I'm sure! I think lots of the quality time hangouts will be really fun as well.
What would you say to someone who was unsure about volunteering as a mentor?
It's actually quite surprising to me the number of people that I've said, "I'm becoming a Big Brother," and they're like, "Oh, that reality TV show? That's amazing!" So that's one thing – it's a different thing than that!
I guess it's going back to like what I said – it doesn't have to be overcomplicated ,it really is about taking the time to have quality experiences with a young person. Throughout the process, I can tell there's been a lot of care given to ensuring that it's a valuable match for the mentor and the mentee. I've been struck by the flexibility (as well). I think that any person, no matter what their personal circumstances are, there is the ability to make it work.
One of my worries was, "Can I really commit to every weekend for a couple hours?" I've learned that's not the case, we'll just stay in touch by text and we'll meet at different times each week depending on what works.
I would highlight what I've heard about there being a real need for mentors. I would just encourage people to reach out and learn more, and to think about both what they can give, but also what they can get back through being a mentor and being a part of Big Brothers Big Sisters.